Kyoto is one of Japan's best preserved cities with thousands of celebrated shrines, temples, palaces and gardens. It is also renowned as one of the best places to experience Japanese traditions such as kabuki drama, tea ceremony, geisha dancing, Zen meditation and high grade Kyoto kaiseki cuisine. As the cultural and spiritual center of country, it is safe to say that no trip to Japan is complete without a visit to Kyoto. Fortunately it is also easily accessible from Osaka. In this article we will look at the best ways to travel between these two cities.
The fastest, cheapest and most efficient way to travel between Osaka and Kyoto is by rail. There are bus services between the two cities, but they cannot compete with rail services in terms of time, comfort and cost. However, there are a number of different rail services connecting Osaka and Kyoto, so which one should you use? The rail service you choose will depend on where you are traveling from in Osaka and what area of Kyoto you wish to visit. Kyoto has many popular tourist sites and attractions, so you will need to decide which rail line is most convenient for you. Let's look at the main rail services between Kyoto and Osaka first, and then at some of Kyoto's key areas and how best to reach them.
Rail Services between Osaka and Kyoto: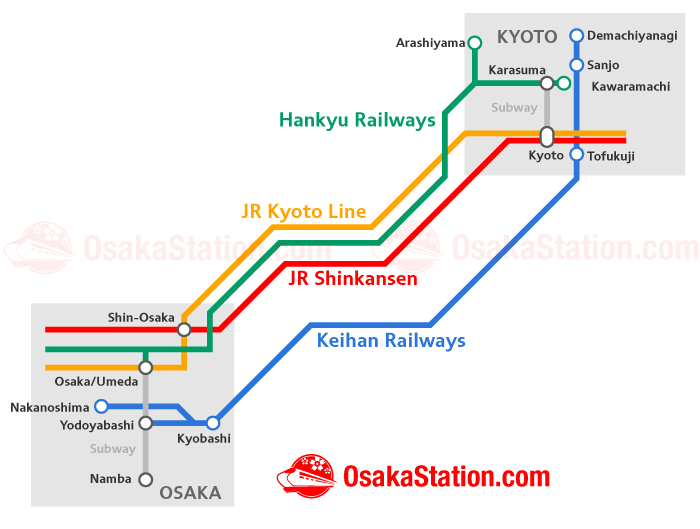 Shinkansen from Shin-Osaka Station to Kyoto Station
The high speed shinkansen service (also called the bullet train) will get you from Shin-Osaka Station to Kyoto Station in 15 minutes for 1,420 yen. This is the fastest and most comfortable route from Osaka to Kyoto, and might be worthwhile if you have a Japan Rail Pass to cover the cost. If you do not have a Japan Rail Pass, you might prefer to travel from Shin-Osaka Station on the JR Kyoto Line's Special Rapid Service (see below). From Shin-Osaka Station the Special Rapid Service will get you to Kyoto Station in 24 minutes for just 560 yen. The Special Rapid Service is also preferable if you want to travel from Osaka Station. Within Osaka, Shin-Osaka Station is easily accessible via the JR Kyoto Line from Osaka Station, or the Midosuji Subway Line from Umeda and Namba. For more information on shinkansen services between Shin-Osaka and Kyoto see our article on the Tokaido Shinkansen.
The JR Kyoto Line from Osaka Station to Kyoto Station
The best way to travel between Osaka Station and Kyoto Station is by the Special Rapid service on the JR Kyoto Line. The Special Rapid Train will get you to Kyoto Station in 29 minutes for 560 yen. At Osaka Station Special Rapid trains depart from platforms 8, 9 and 10. These trains are covered by the Japan Rail Pass. For more details on this route see our article on the JR Kyoto Line.
The Keihan Main Line from Yodoyabashi Station
The Keihan Main Line is a useful line for commuters traveling between Osaka and central Kyoto. A Limited Express train will get you from Yodoyabashi Station to Sanjo Station in 55 minutes for 410 yen. Also because the Keihan Main Line runs from the south to the north of central Kyoto, and because its stations are reasonably close to many of Kyoto's most iconic sightseeing locations, this line is very convenient for tourists. Within Osaka, Yodoyabashi Station is easily accessible via the Midosuji Subway Line which connects to Osaka's major commercial and entertainment districts of Umeda and Namba. As Keihan Railway is a private company it is not covered by the Japan Rail Pass. For more details see our article on the Keihan Main Line.
The Hankyu Kyoto Main Line from Hankyu Osaka-Umeda Station
The Hankyu Kyoto Main Line provides the cheapest route into central Kyoto from Osaka. Limited Express trains run between Hankyu Osaka-Umeda Station and Kyoto-Kawaramachi Station in central Kyoto in 44 minutes for just 400 yen. This line also provides easy access to tourist attractions in western Kyoto. As Hankyu Railway is a private company it is not covered by the Japan Rail Pass. For more details see our article on the Hankyu Kyoto Main Line.
Key Areas:
Around Kyoto Station
If you use the shinkansen or JR Kyoto Line to visit Kyoto the your first stop will be Kyoto Station. There are a handful of sites and attractions within easy walking distance of Kyoto Station and these include, Kyoto Tower, Toji Temple, Nishi Honganji Temple, Higashi Honganji Temple, and the Kyoto Railway Museum. Tofukuji Temple is also just one stop away on the JR Nara Line.
Popular Hotels near Kyoto Station
---
To visit other tourist attractions via Kyoto Station, your best choice is to use the extensive city bus network. There are three tourist buses called "Raku Buses" that are targeted specifically at tourists and can take you in a loop around most of the major sites in the city. One and two day discount passes are available for both city buses and the subway. Several organized tour buses also depart from outside Kyoto Station. For more information about buses in Kyoto, see our article: Taking a Bus in Kyoto.
Tourist sites along the Keihan Line
The Keihan Main Line is especially convenient for tourists because it runs from the south to the north of central Kyoto, and its stations are within walking distance of many of Kyoto's most famous destinations. If you plan to use the Keihan railway to tour Kyoto's sites then buying a one or two day sightseeing pass will save you a lot of money. These are the main sites of interest on the Keihan route:
Uji is a small town to the south of Kyoto which is popular for its tea shops and temples, and most notably for its two UNESCO World Heritage Sites, the Byodoin Temple and Ujigami-jinja Shrine. To reach it take the Keihan Main Line to Chushojima Station and then change to the Keihan Uji Line. Uji Station is the last stop.
Fushimi Inari Taisha Shrine is Kyoto's most popular tourist destination. It is famous for its fox statues and for the trail up Inari Mountain which is lined with thousands of vermilion torii gates. The shrine is a short walk from Fushimi Inari Station.
Tofukuji Temple is an expansive Buddhist temple complex famous for its gardens and it is just 10 minutes' walk from Keihan Tofukuji Station.
Kyoto National Museum and Sanjusangendo Temple are easily reached from Shichijo Station. Sanjusangedo is famous for having 1000 statues of the Buddhist goddess of mercy and the National Museum across the road has one of the best art collections in Japan.
Kiyomizu-dera Temple with its massive raised platform overlooking the city is one of Kyoto's best known tourist attractions. It can be reached via Kiyomizu-Gojo Station and a 25 minute walk through a street of pottery shops.
Shimogamo Shrine is a tranquil spot located in the primeval forest of Tadasu-no-Mori. It is a short walk from Demachiyanagi Station. You can also transfer at this station to the Eizan Eiden Line to travel on to the scenic villages of Kibune, Kurama, and to visit Enryakuji Temple on Mount Hiei.
Western Kyoto
The easiest way to reach western Kyoto from Osaka is via the Hankyu Kyoto Main Line. A Limited Express train will take you to Katsura Station in just 35 minutes, and from there you can catch a bus to Katsura Imperial Villa. Remember though that visits must be booked in advance. At Katsura Station you can also transfer to the Hankyu Arashiyama branch line that goes to Arashiyama. The Arashiyama area is one of the major tourist attractions in Kyoto, and famous for its bamboo forest, monkey park, and the scenic view of Togetsukyo Bridge. From Arashiyama you can use the Keifuku Randen Tram Line to explore other major sites in western and north-western Kyoto such as the Toei Uzumasa Eigamura theme park, the Golden Pavilion at Kinkakuji Temple, and the famous Zen rock garden at Ryoanji Temple.
Central Kyoto
To reach central Kyoto from Kyoto Station take the Karasuma Subway Line to Shijo Station. There you can transfer to the Hankyu Line at Karasuma Station to head west to Arashiyama or east to Kawaramachi and the city's busiest shopping and entertainment area.
The Keihan Main Line also has two stops in central Kyoto at Gion-Shijo Station and Sanjo Station. These stations are convenient for the Gion entertainment district and the historic alley of Pontocho.
The Hankyu Kyoto Main Line takes you directly into the heart of Kyoto's commercial district at Karasuma Station and Kyoto-Kawaramachi Station. Kyoto-Kawaramachi Station is particularly convenient as it gives direct underground access to the Marui and Takashimaya department stores and Nishiki food market is just a short walk away.
Planning Your Journey
For the shinkansen or JR Lines use the JR West Timetable and Fare Finder to plan your journey. For private rail lines like the Keihan Line, or the Hankyu Line use an English language online route finder like Jorudan or Hyperdia.
Discount Tickets
The Japan Rail Pass can be used for any JR Line and for most shinkansen services with the exception of the Nozomi and the Mizuho trains. However, the Japan Rail Pass does not cover private rail lines such as the Hankyu Line and Keihan Line.
For the Hankyu Line a Hankyu Tourist Pass is available for 1 or 2-day travel.
Keihan Railways also offer a one or two-day pass for Osaka and Kyoto.
Visitors from overseas can also get a Kansai Thru Pass (also called the Surutto Kansai Pass) for two or three days. This covers not only the Hankyu Railway but many of the private railways, buses and subway systems in Osaka, Kyoto, Kobe, Nara and Shiga. This pass cannot be used on JR Railways however. Visit the Kansai Thru Pass website to find out more.
Article and original photos by Michael Lambe. All rights reserved.